Cannabis Business Webinars
A collection of virtual broadcast resources brought to you by the editors of Marijuana Business Daily and Hemp Industry Daily.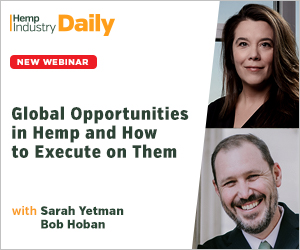 Free Webinar | Global Opportunities in Hemp and How to Execute on Them
Hemp opportunities don't stop at the U.S. borders, nor are they relegated to North America. Opportunities abound around the globe – with more coming into play all the time.
In this webinar, our panelists – Bob Hoban, founder and president of Hoban Law Group, and Sarah Yetman, CEO of Sovereignport, examine:
How to identify the best opportunities for your hemp business.
Legal and regulatory considerations in different markets.
The outlook for the global hemp market.
Access Free Webinar
---
Free Webinar | Formulating Your International Investing Thesis
The green wave isn't isolated in the United States, but investment opportunities around the globe vary greatly.
In this free Investor Intelligence webinar, Deepak Anand, Co-founder and CEO of Materia Ventures, will discuss:
The evolution of the cannabis industry in Canada (Cannabis 2.0).
Navigating the regulatory complexity of the European market.
Growth of cannabis in Germany – how it is similar to yet unlike any other medical cannabis market in the world.
---
Free Webinar | Opportunities & Challenges in Hemp Investing
Hemp is often looked to as the gateway for cannabis investing, thanks to its federally legal status. But current conditions in the United States – including the COVID-19 pandemic – have created significant challenges, as well.
In this free Investor Intelligence webinar, Brent Williams, founder of Highwater Financial, discusses:
How to assess the current hemp opportunities and figure out what makes sense for your portfolio.
How the pandemic and recession have impacted the outlook for the industry.
What investors should be looking out for with hemp and CBD.
---
Free Webinar | Not What But How: Agronomy vs Horticulture for Hemp Producers
Hemp farmers today come from many different backgrounds and with hemp being a complex plant that can be grown and harvested for a vast number of consumer products, there are different cultivation practices that can be taken.  The question for farmers to consider is – agronomy vs. horticulture?  Which practice suits your operations and ultimately your harvesting goals?
In this free webinar, Andrew Bish of Bish Enterprises and Hemp Harvest Works discusses the following:
Agronomy vs. Horticulture:  What is the difference?  How does each practice relate to hemp?
What are the advantages/disadvantages of using one method vs. the other
From a bottom line and sustainability perspective, which approach is most beneficial to your operations and harvest goals.
Access Free Webinar
---
Free Webinar | Planning for an Uncertain Future: Case Studies and Lessons in Pivoting and Budgeting
As an owner or leader in your business, we understand the industry is in upheaval and all your careful business plans are up in smoke. COVID-19 is only the most recent example. Cannabis businesses are at risk to everything from shifts in the weather to the growing illicit market to regulatory whims.
In this webinar, Ellen Rosenfeld and Jeff Yapp explore case studies of cannabis businesses from along the supply chain that have pivoted with success. Learn from first-hand experience how to navigate your business through major changes, including strategy and budgeting.
---
Free Webinar | Product Demand: Shifts in What Consumers Want
The cannabis industry is no stranger to dealing with situations impacting consumer demands. Autumn 2019 brought on the vaping crisis and today the industry is facing the COVID-19 global pandemic. Along with hefty business operational impacts, events like this have a big impact on a single important factor that keeps the cannabis industry thriving, consumer demand.
In this free webinar, industry veteran Nancy Whiteman, CEO of Wana Brands, and data pro Liz Connors, Director of Analytics at Headset, take a look at these shifting trends and how to use this information to make business plans and adjust accordingly.
---
Free Webinar | Managing Risk in Uncertain Times: Strategies for Hemp Businesses
As a hemp operator, you cannot eliminate risk from your business plans, but there are steps you can take to help mitigate the loss one may face when unexpected events occur. This free webinar is a comprehensive discussion on risk-mitigation strategies for your business.
Legal and insurance experts discuss:
legal strategies to make contracts less risky
crop insurance
business property insurance
worker's compensation insurance
---
Free Webinar | How Cannabis Affects the Mainstream Portfolio
Even if you're not currently investing in cannabis, it's likely that the industry is already affecting other companies in your portfolio.
This Investor Intelligence webinar features Vivien Azer, Managing Director at Cowen, who provides insight on:
Why some mainstream companies are already looking to cannabis for growth.
Adjacent industries serving the cannabis industry – and how this may affect your portfolio.
Key subsectors of the marijuana industry and how to identify the best opportunities.
---
Free Webinar | The Start of a New Industry: Updates and Opportunities in South America's Prominent Markets
Each South American country is in different stages of cannabis legalization and regulation, leaving ample room for market development and investment opportunities.
MJBizDaily's International Analyst, Alfredo Pascual and a panel of experts take a deeper look at some of the region's most prominent markets: Colombia, Brazil and Uruguay.
Julián Wilches, Chief Regulatory Officer & Co-Founder, Clever Leaves, Martín Rodríguez, Executive Director, Institute of Cannabis Regulation and Control, and Viviane Sedola, Founder & CEO, Dr. Cannabis discuss:
How COVID-19 is affecting the South American cannabis industry.
The current situation in Uruguay since legalization.
Why cannabis producers and investors should be paying attention to Brazil.
The recent milestones achieved in Colombia.
This webinar is for producers, investors, individuals and businesses looking for opportunities to export, expand or partner with companies in South American cannabis markets.
---
Free Webinar | Starting a CBD Business During a Time of Uncertainty
The economy has seen its fair share of up's and down's, but the CBD industry, still in infancy, has been a wild ride.  The CBD industry has been the mecca for business entrepreneurs and start-ups, but what happens when economic or environmental circumstances out of your control strike?
In this free webinar, Hemp Industry Daily Reporter Ivan Moreno will talk with CBD business owners who have been working through this time of uncertainty caused by the global COVID-19 pandemic
These experienced entrepreneurs and founders will discuss and share tips about:
Funding and Cash Flow:  How to reassure your current investors and work with new potential investors
Supply Chain Management
Distribution and Retail Challenges and How to Overcome Them
Branding and Marketing – Is Your Plan Still Viable?
Business 101: Crisis Management Plans and How To Prepare for the Future?
Watch Free Webinar
---
Free Webinar | Know the Nuances: Share Structure to Leasebacks and Taxes Between
While cannabis businesses are adopting a more mature approach to operations, the industry itself has many key nuances that may hinder successful investments.
In this free Investor Intelligence webinar, Mitzi Hollenbeck, Partner with Citrin Cooperman, and Mike Regan, Contributor to Marijuana Business Daily, explore topics such as:
How cannabis ownership structures can divert upside away from common equity.
The business and investment implications of tax regulations such as 280E.
Where adjacent opportunities exist
---
Free Webinar | From Production to Retail: A Look at the Current State of Germany's Cannabis Market
Germany is Europe's economic powerhouse, and when it comes to cannabis, what happens there impacts the entire European market.
In this free webinar, David Henn, CEO of Cannamedical, Hendrik Knopp, managing director of Aphria Germany and Nordic, and Patrick Hoffmann, Co-founder of Cantourage, discuss how the cannabis market in Germany is developing and what changes are on deck for the industry.
Henn, Knopp and Hoffmann examine:
Germany's current supply situation.
Details about the importation process.
How Germany is getting ready for it's first domestic harvest and what it means for the market.
New developments in Europe's largest cannabis market, including the new reimbursement price agreement between pharmacies and insurers.
---
Free Webinar | MJBizDaily Investor Intelligence The State of the Cannabis Industry and 2020 Trends
Short-term challenges create long-term opportunities: Join Investor Intelligence's premier analysts, Craig Behnke and Mike Regan, as they delve into how to find the diamonds in the rough, which can be found even in the current capital climate.
---
Free Webinar | Tapping the Stimulus Package and Other Business Assistance Programs
In response to the recent COVID-19 pandemic, the federal government approved a $2.2 trillion economic stimulus package. Hemp operators and ancillary businesses who have been impacted have the opportunity to receive assistance through this program, amongst many other resources. But where do you start? This free webinar with Jonathan Miller, general counsel of the U.S. Hemp Round Table, and Phillip McCready, co-founder of Colorado Hemp Industries Collaborative. Jonathan and Phillip will discuss:
Federal aid and other options currently available to hemp operators
Who is eligible
How you can apply
Watch Free Webinar
---
Free Webinar | Financial Assistance Programs Available to Marijuana Businesses and What to Expect Moving Forward
The federal government has released an expansive relief package, the Coronavirus Aid, Relief and Economic Security Act (CARES), but its sweeping mandate excludes the marijuana industry because of its federally illegal status. But that doesn't mean there aren't any options for cannabis companies in this difficult time. Access this webinar and hear from MJBizDaily's senior reporter John Schroyer and Codie Sanchez, managing director of Entourage Effect Capital as they discuss what's available now and what to look forward to.
---
Free Webinar | COVID-19 and California's Cannabis Industry
California's cannabis industry was already dealing with a host of challenges before the coronavirus took aim. Now the market has a new set of challenges to navigate.
John Schroyer, MJBizDaily's senior reporter based in Sacramento, hosted a webcast on Thursday, March 26, and addressed your questions on how the industry is adapting to the new uncertainty and how companies can position themselves for survival.